The menu Dotypos Cloud settings that is available via the cogwheel icon

in the upper bar on the screen, lets you adjust the information assigned to your user account in Dotypos Cloud. You can change your password, set up secure two-factor authentication and adjust both your personal information and information about your company. In the menu you can also find the access for the customer portal moje.dotykacka.cz with an overview of licenses and invoices for using Dotypos.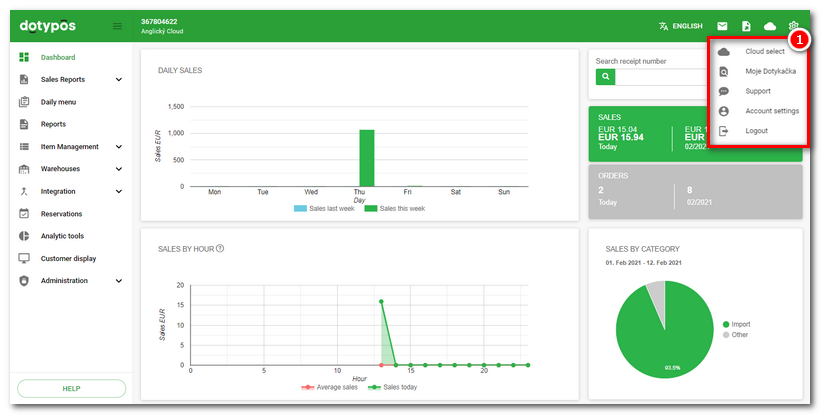 ---
Cloud select
Here you can switch between your clouds, if you have more than one of them. Clouds are clearly grouped by company. Click on CONTINUE to open the selected cloud.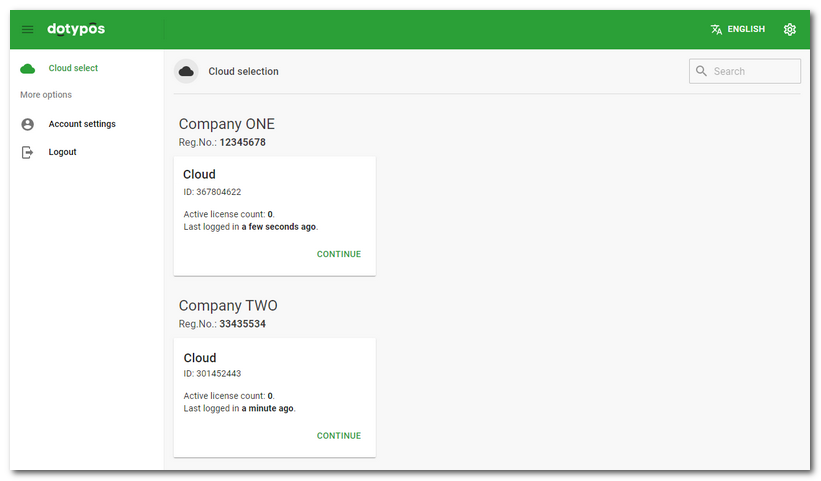 Data in Dotypos is stored in a so-called "cloud", which is a safeguarded data storage in the Internet that communicates with your cash register and synchronizes the data with it. You can use both the local cash register and this remote cloud via a web interface we call Dotypos Cloud.
You can have more clouds, e.g. when you have two shops with different ranges of goods sold. Just log into Dotypos Cloud and select the store (cloud) you currently want to work with. You can create a new cloud (for one or more independent cash registers) in the activation wizard. In most cases one cloud will be enough, the individual cash registers in this cloud will share the data.
---
My Dotypos (Moje Dotypos)
Select this option to access the customer portal moje.dotykacka.cz. Log into the portal with the same credentials as when logging into Dotypos Cloud. Here you can find an overview of your licenses and issued periodic invoices (including their settlement details). You can pay your invoices using the payment gateway. For licenses, you can activate or deactivate them for your desired period or adjust their billing period. You will find more information in separate chapter.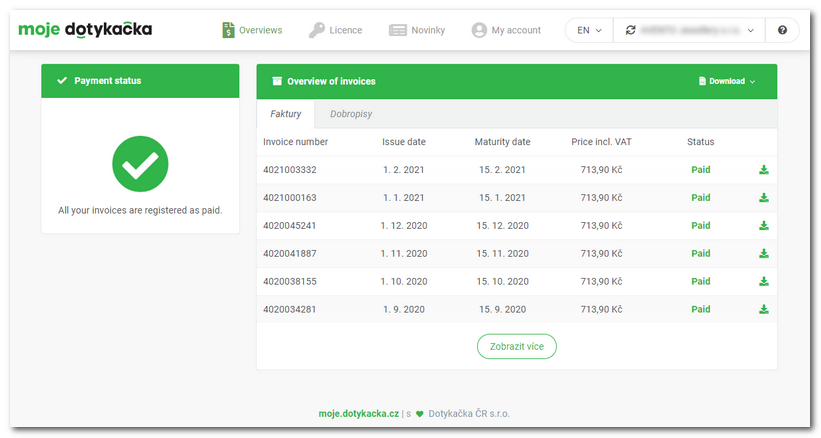 ---
Support
This option transfers you to the website of the Dotypos technical help center. If you need a PIN to be generated or a technician to access your Dotypos Cloud, use the function with the same name in the menu Cloud settings.
---
Account settings
Here you can adjust your personal settings, including changing the password and personal information. More information about these options can be found in the next separate chapter.
---
Logout
Use this option to log out from Dotypos Cloud, from where you will be transferred to the login screen.