» Available only in Dotypos FULL and higher. «
The application Mobile Waiter is used as an auxiliary cash register (mobile terminal), useful typically in restaurant establishments for guest orders directly at the table. However the application Mobile Waiter is also useful in different shops where you can charge the items directly to customers during consultations. The application is fully synchronized and shows items and categories from the connected main cash register paired with Dotypos.
It can create new orders, manage existing open orders and work with the Table Map. When editing an open order, at other devices (due to direct communication with the main cash register) this order is blocked (there can be several Mobile Waiters) until the open order is parked again or settled up. This is mutually valid.
Every cash register opening and closing, document history or other settings are always done in the main cash register. Receipts and kitchen tickets are usually printed using the settings of the main cash register, but you can also use the mobile Bluetooth printer and print receipts for guests when paying directly at their tables.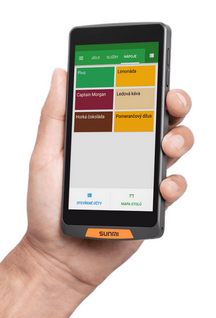 Mobile Waiter can:
•Looking for items and adding them to order
•Daily menu / displaying the best-selling products
•Customizations (extra side dishes) / portions / courses / price levels
•Parking, dividing and settling orders
•Direct receipt printing (after pairing with the mobile Bluetooth printer)
•Scan barcodes with the built-in camera

The Mobile Waiter is available for the licenses Dotypos FULL and UNLIMITED; note that in Dotypos FULL, however, only one Mobile Waiter can be used. For installing Mobile Waiter we offer a special 5" mobile terminal and mobile Bluetooth printer. However, you can install Mobile Waiter on any smart device that meets these requirements:
•Android 5.0 and higher*
•Display resolution at least 1024x768 px
The 100% functionality of Mobile Waiter is only guaranteed with our devices as well. Due to the openness of the Android system and adjustments by the individual manufacturers we are not able to assure the problem-free functioning of the application in non-in-house devices. See the chapter HW and SW requirements.
* Neither Mobile Waiter nor the Dotypos cash register application run on Android 7.0.
•For smooth Mobile Waiter operations, a high-quality wireless connection in the establishment is necessary. The network requirements for operating Mobile Waiter can be found in the next chapter.

•The wireless connection coverage is fully managed by the customer and Dotypos disclaims any responsibility for it. The technical support covers only the basic functions of the application itself and does not cover any problems caused by inferior network quality.

•If you have a device with an Android system version earlier than 5.0, Mobile Waiter will not be displayed in the application Dotypos Marketplace and cannot be installed as standard. Android 5.0 is a basic prerequisite for it to function properly.