If you use a Dotypos mobile or you want to use the mobile printer separately, this chapter shows you how to connect the mobile printer to the touch cash register.
The information about how to set up and operate a mobile printer can be found in the basic guide:
Basic mobile printer guide (in the Czech language)
| | |
| --- | --- |
| | To print properly from Dotypos MOBILE (8" cash registers), disable the Android system function Standby intelligent power saving. The procedure for disabling this function is described in this chapter. |
| | |
| --- | --- |
| | Dotypos printing options (print settings) are described here. |
How do I pair a mobile Bluetooth printer?
| | |
| --- | --- |
| | Insert the battery into the mobile Bluetooth printer and let it charge at full capacity. Turn the printer on by holding down the button. . The left red diode on the printer should be on . Now the printer has the Bluetooth connection automatically active and is available for other devices. |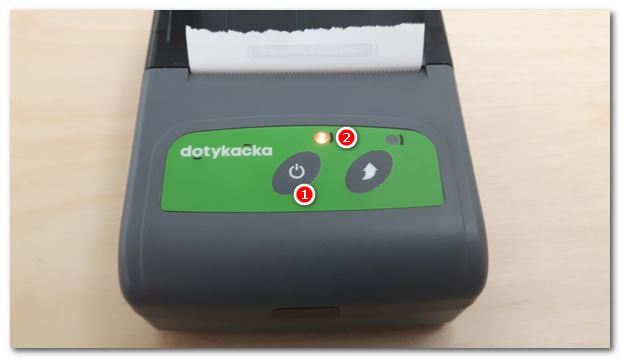 | | |
| --- | --- |
| | In the touch cash register, pull down the upper bar with the clock and status icons and click at length on Bluetooth . The Bluetooth connection should be now activated. In the open dialog, now select MORE SETTINGS . If the Bluetooth connection is not active, turn it on with the switch . |
| | |
| --- | --- |
| | Now the touch cash register will look for available Bluetooth devices. These devices will appear in the displayed list. The mobile Dotypos Bluetooth printer is shown here with the name DOTPR58 I. Click on this name in the list to initialize pairing with the touch cash register and to show the dialog for entering the PIN. |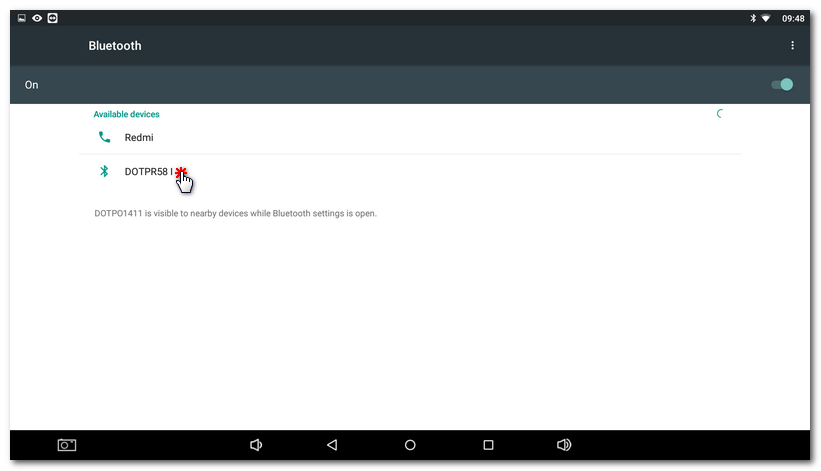 | | |
| --- | --- |
| | Enter PIN 0000 and click on the button OK. The printer is now successfully paired and you can go on with the printing configuration. |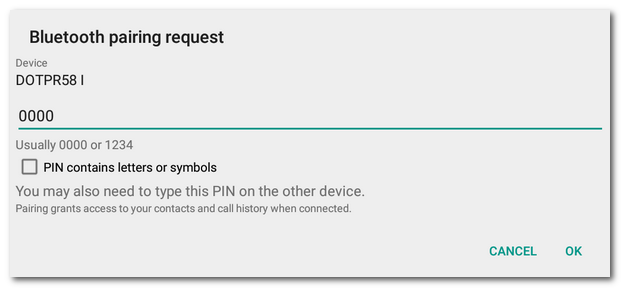 | | |
| --- | --- |
| | If the printer disconnects while it is operating, you will have to pair it once again. If this is the case, click on the cogwheel icon next to the printer name in the list of paired devices and then select Forget. Now pair it again. |