Qerko is an application for smooth payments in restaurants, bistros or coffee bars. Qerko can be used not only for payments, but also to communicate with your customers and care for them. It is a tool that will convert your occasional customers into regulars. With this tool you can find out what your customers like, what they like to order and how often they come back.
Qerko allows you to know your customers better, reward them for their loyalty or motivate them to come back or visit your other establishments. You obtain so much information that you can use when planning promotional campaigns aimed at selected customer groups based on their behavior. And it is without any user privacy violation.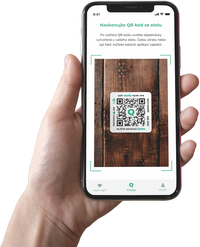 With Qerko you get:
•Fully contactless and secured payment method for your enterprise using a QR code placed on the table and integrated with the touch cash register
•Loyalty program for all your customers
•Insights into customer behavior, including feedback directly from paying customers
•Higher tips for your service crew
•Time for better service and care for your customers
•Digital receipts
How do you connect Qerko with Dotypos?
Qerko allows final customers to divide and settle the order directly at the table, without the crew's assistance. You just need to install the Qerko mobile application, scan the QR code from the table and settle up the whole order or its part. The service crew immediately gets the information on the settlement. With Qerko connected with Dotypos, customers/guests can use Qerko to pay quickly and smoothly. You just have to set up Qerko, no settings or adjustments in Dotypos are necessary. Of course provided that you have activated the Table map in Dotypos and created the page with individual tables.
1.If you don't have a Qerko yet, you can set one up using this form.
2.By creating an account, you receive tags with QR codes and an email to activate the connection. Subsequently you activate the connection by allowing access to Dotypos Cloud in the Qerko administration.
3.In the Qerko administration, in the section QR code pairing, connect QR codes with the tables loaded from Dotypos.
4.Done – now your customers can pay easily; in Qerko app they just scan the tag with the QR code placed on the specific table and make the payment.
What happens in the Dotypos?
1.In Dotypos, the order will be closed automatically and the receipt will be printed (unless you set it otherwise in the Qerko administration). The order is paid using the Qerko hidden payment method.
2.If a customer places an order through Qerko, the open order for that table will be automatically updated or created in Dotypos and again, depending on the print settings in Dotypos, the order will be printed to the kitchen. However, the option to order via Qerko is only available if you have paid for the order module with Qerko.
| | |
| --- | --- |
| | If you have any questions or problems with the connection, please directly contact Qerko support via their websites. In the same way, when you get into trouble with transactions or delivering the digital receipt to the final user, contact Qerko. |