In the item ... More » Daily menu

you can simply create a daily or weekly menu. The created menu can be exported into a .pdf file and printed or directly published on your Facebook page. Optionally the daily menu can be also displayed on Dotypos main screen directly in the cash register. So the crew can charge it really fast.
In the header, you can switch to a page with QR codes, which are used to display the daily menu on customers' mobile devices - the so-called contactless menu. Customers are shown the menu after scanning the QR code label with their mobile phone. To view the QR code page, you must switch the Dotypos Cloud interface to Czech language.
How can you create a daily or weekly menu?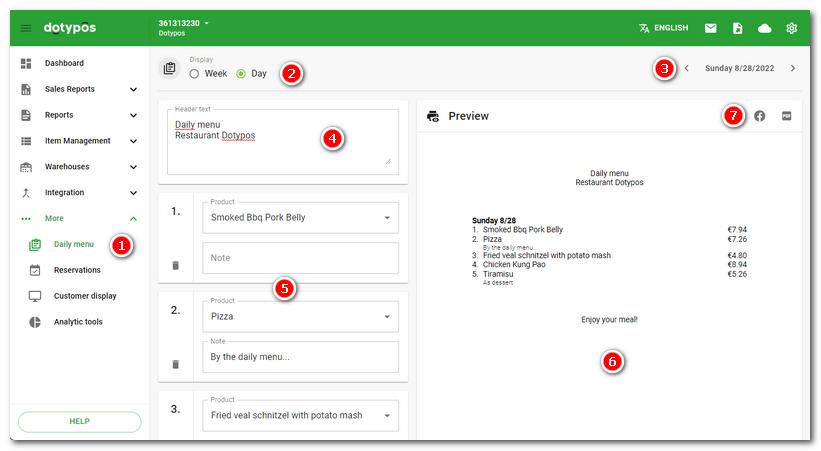 | | |
| --- | --- |
| | Go to Daily menu and in the heading select whether you want to create a weekly or daily menu. The weekly menu contains an offer for each day of the week. The daily menu is an offer for a specific selected day. In both cases you can add an additional offer (Weekly menu in the bottom part) that is valid throughout the week. So you can create a menu for each day and an additional special menu that remains unchanged for the whole week. You can select the specific week or day for which you are creating the menu in the calendar in the top right corner. |
| | |
| --- | --- |
| | For each menu, you can add a text located in the heading or footing. The field for inserting the footing text can be found in the bottom part of the page. |
| | |
| --- | --- |
| | In the section you create the menu itself. For the specific day just use the field Product and enter the first 3 characters of an existing product. The cash register will use the entered characters to find and offer the corresponding products. Eventually you can just click on the field and choose the option Create product, and the dialog to create a new product will appear. The new product will be inserted into the menu and saved into the cash register. Other product preferences can be adjusted when you open their details Item Management » Products. |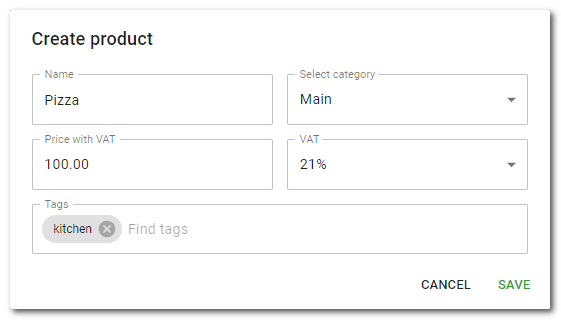 | | |
| --- | --- |
| | In the section you can see the menu preview. Once you finish the menu, use the buttons to save it as a .pdf file and print this file or publish it on your Facebook page. For printing, the .pdf file can be generated in A4 or A5 format. |
| | |
| --- | --- |
| | The daily or weekly menu can be displayed on the main screen of Dotypos on the so-called Featured screen. In addition to the specific daily menu, it also displays the best-selling products. |