» Available only in Dotypos FULL and higher. «
Dotypos offers its own format for electronic delivery notes and remittances. This .xml format is designed primarily for suppliers who can integrate it and offer their customers easy stocking based on an electronic delivery note or stock adjustment based on a remittance. In addition to its own format, import of GECO and Markeeta delivery notes is also supported.
Remittances or e-delivery notes can also be uploaded automatically via EDI. Based on these, a stock request is displayed in the Application Warehouse, which you simply confirm. The other option is to manually upload the .xml file in the correct format via Dotypos Cloud. This is useful if you receive a delivery note/remittance by email or if you want to use the option to edit the stock according to the e-delivery note or remittance yourself.
The file structure is shown below. To upload an electronic delivery note / remittance, first select the target cash register

, then click in the

area and select the file to upload. The file can also be easily dragged into this area. The file will be uploaded and processed immediately.
All uploaded files will then be displayed in the

area where they can also be downloaded in .xml format. Click on the columns in the header to sort the records. The upload status can be found in the Document ID column ( New / Open / Stocked up). Furthermore, the displayed records can be filtered by cash register and type (Purchase (delivery note) / Remittance). A sample electronic delivery note can be downloaded by clicking on DOWNLOAD TEMPLATE

.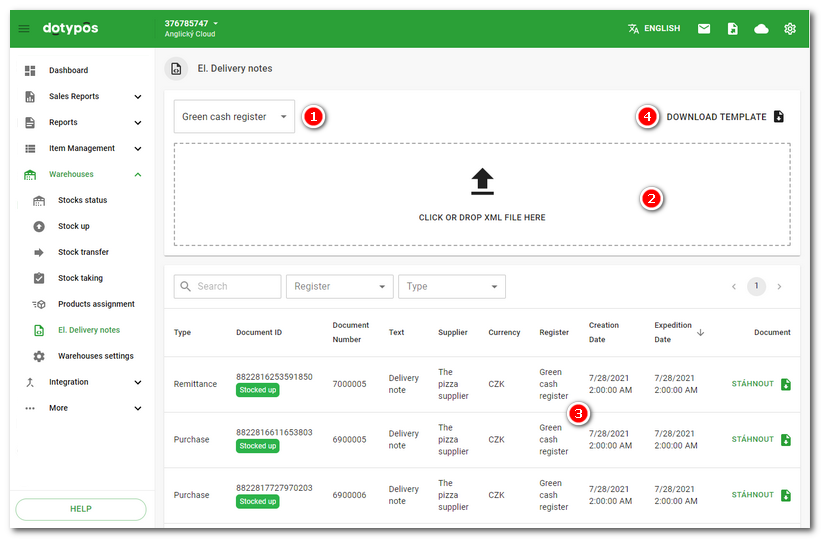 | | |
| --- | --- |
| | After manually uploading the file, always remember to go to the Warehouse application at the cash register and confirm the stock changes there. This procedure is described in this chapter. |