To ensure that all used programs are up to date, the touch cash register is installed without applications. To install the current versions, use the Dotypos Marketplace, which will appear on the main screen after the cash register is turned on.
How do I install the current versions of the POS applications?
| | |
| --- | --- |
| | We recommend performing the first download of applications and their updates when the cash register is connected to the Wi-Fi network. Downloading installation and update packages may consume a large amount of data. If you use a mobile connection with a limited amount of data, the data limit may be reached. |
How do I install the current versions of the POS applications?
| | |
| --- | --- |
| | To install the applications, click on the mainscreen of the running cash register in the bottom left corner at the Marketplace. Eventually on the desktop click on Install Dotypos or Dotypos Marketplace if Marketpace is already installed. |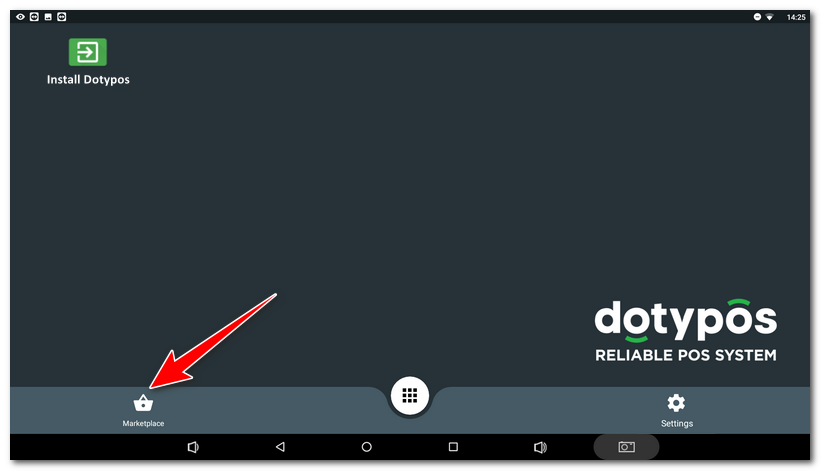 | | |
| --- | --- |
| | In Dotypos Marketplace the Dotypos application will now be available. If it is not being installed now, click on INSTALL to install this application. |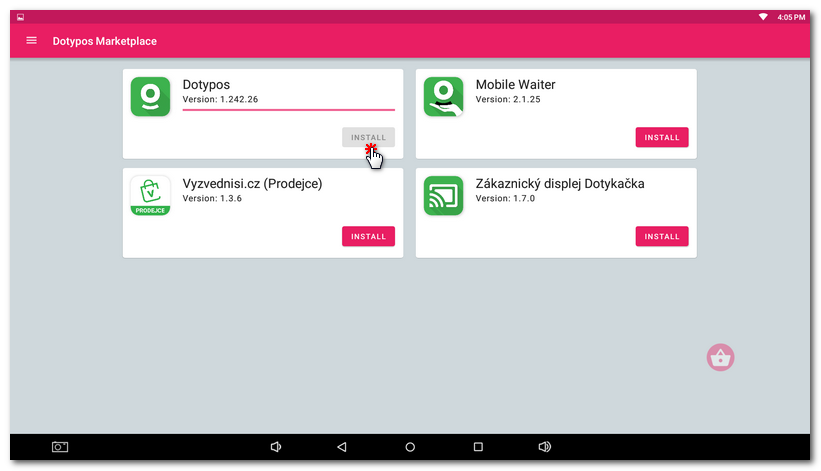 | | |
| --- | --- |
| | As soon as you install Dotypos, in Marketplace other applications will be available. Continue with installing other POS applications, e.g. Warehouse or Reservation. However, the use of other POS applications depends on your Dotypos license. |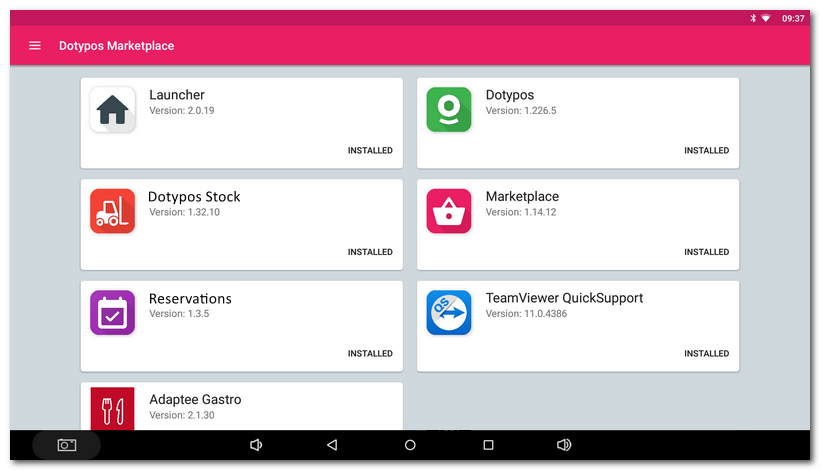 | | |
| --- | --- |
| | With the application Marketplace the installed applications are also automatically updated. If regular updates of applications do not run automatically, delete the data of the Marketplace application in the application settings of the Android system by following these instructions. |
Installing POS applications on your own device
If you need to install POS applications on your own device, use the Dotypos Marketplace again. Go to https://marketplace.dotykacka.cz and tap the button: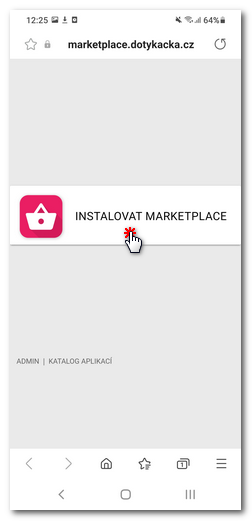 Download the installation package to your device and install Dotypos Marketplace. In some cases, you may need to enable installation from unknown sources in Android settings before installing. By default, your device may be set to block installation of apps from outside the Google Play Store.
Once installed, open the Dotypos Marketplace, reconcile the license terms, and then select the apps you want to install from the overview. Through Dotypos Marketplace, individual checkout apps will also be automatically updated on a regular basis.