My Dotypos (Moje Dotykačka) is a customer portal where you can find information on your licenses and issued invoices for individual licenses. Unsettled invoices can be paid easily and smoothly online. For licenses, the portal offers a tool for their temporary activation or reactivation or the ability to adjust the billing period.
You can access the portal via the Dotypos Cloud web interface and menu Dotypos Cloud options or via the web address https://moje.dotykacka.cz. Log into the portal with the same credentials as when logging into Dotypos Cloud.

At the My Dotypos portal, you can:
•Monitor your payment statuses with notices of unsettled invoices before or after their maturity
•Settle invoices online using a secured payment gateway
•Change your billing information
•Change the billing period for individual licenses (subscription for one month or 1 year)
•Deactivate/activate a license and select its reactivation date
•Smoothly switch to a higher license type
•Use a special discount code to extend the license for several months for free
•Get information on the latest news and exciting offers from Dotypos
Company selection
When you have more clouds for various companies, their overview will be displayed first. Click to select the cloud / company. It will display the main page with an overview of invoices that belong to the selected cloud/company. The green tile Cloud is used to go back to the web interface of Dotypos Cloud.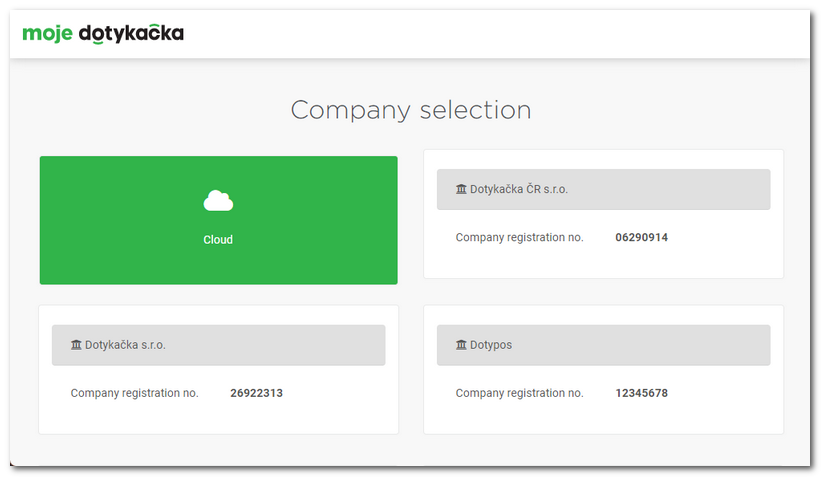 Overviews
On the page Overviews you can find all relevant information about invoices in one place. In the upper part you will find the actual status of payments. In the lower part there is a list of issued regular invoices for Dotypos licenses. In the upper right corner you will find the menu

to change the language for the interface and the menu Change the company, in which you can switch between clouds / companies (if you have more of them) or go back to Dotypos Cloud. The question mark icon refers you to this manual.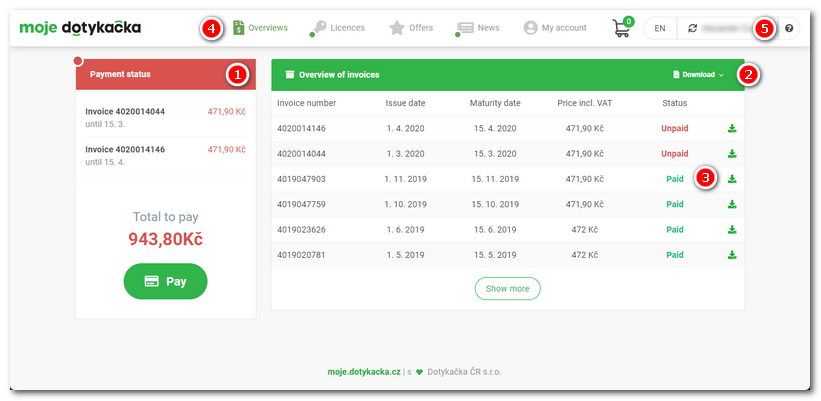 | | |
| --- | --- |
| | The up-to-date status of payments displays whether all your invoices are settled or not. If any issued invoice is not settled yet, you will be notified about it in the overview and a button to pay online will appear. Click the button Pay and you will be forwarded to the secured payment gateway. The status of payments changes its color according to paid/unpaid invoices: all paid - green, unpaid invoice before its maturity date - yellow, unpaid invoice after its maturity date - red. |
| | Overview of issued invoices for Dotypos licenses. For each invoice there is a sign indicating whether it is settled or not. Use the Download button in the header to download a .zip archive with all invoices or invoices for the selected year. By clicking the icon you download the appropriate invoice in .pdf format. |
| | Main menu - Overview of issued invoices with their status information / Management of your licenses / News and events from Dotypos / Setting billing information. If you have unread information in a section, a dot will be displayed next to that particular menu item. |