In this setting you define how the touch cash register will work with tips. You can always enter the tip, only for selected payment methods, or disable it completely. Based on the amount you pay, Cash register will optionally display the tip suggestions you choose from. Of course, you can also enter your own tip amount. For supported payment terminals, there is then an option to let the customer enter the tip directly on the payment terminal.
In order to set up the tipping behaviour, you must first enable it. Then the options below will be displayed: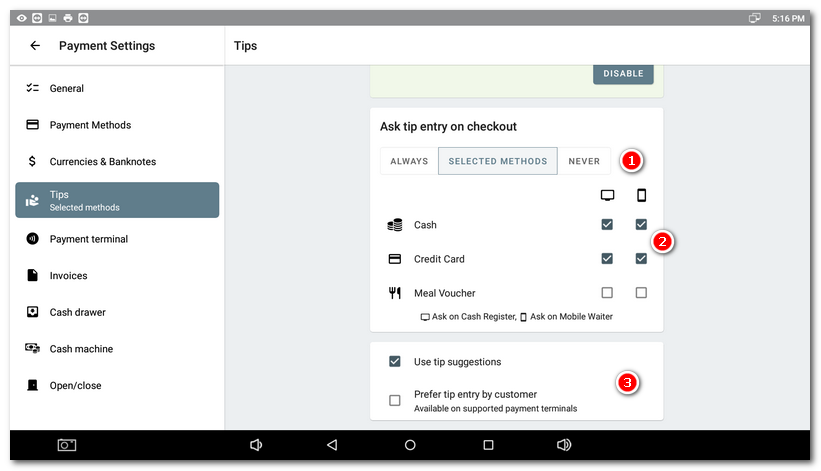 In the

section, choose whether you want to activate tipping support without restrictions or only for selected payment methods. In case of limitation to payment methods, select by checking in the

section for which payment method you will be entering the tip and whether the tip will be recorded at the cash registers and mobile waiters.
Then in the

section, if applicable, turn on tip suggestions where the cash register will display tip suggestions based on the amount paid. The option to enter a custom tip amount will remain.
The Prefer tip entry by customer option prefers the customer to enter the tip directly on the supported payment terminal. Therefore, if this option is active tip entry at the cash register including drafts will be suppressed. When paying by card, the terminal will first display a dialog for entering the tip and then the NEXT button will move the customer to the second step, where they make the actual payment, including the included tip.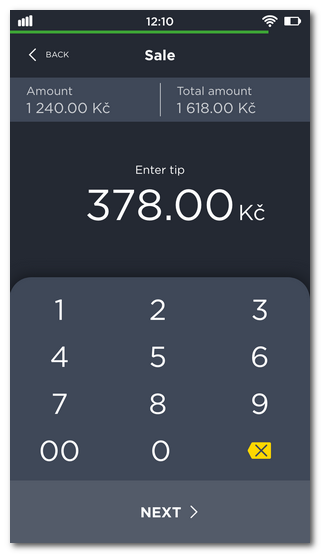 Individual tipping options (buttons) can be set on the

Dotypay terminal

. The customer can select from the preset options on the terminal display (tip in %, tip in currency, no tip or another amount entered manually). You can design the appearance of the screen yourself, the screen is not limited by the number of fields. Please

contact us

to customize your tip screen.
---
Entering the tip after payment and closing the order
You usually enter the tip amount before you pay and close the order. However, you can also enter a tip after the order has been paid and closed. Simply open your account in History by tapping

and using the button

to enter the tip amount. This will be added to the account after the fact.