According to the type of Dotypos license you have purchased, you can have at hand an easy system to monitor employee attendance. This system allows you to record work arrivals, breaks and departures, wherein the start of the working time can be linked with the user's standard logging into the cash register. Subsequently when logging out the user will be asked whether they are taking a break or leaving. and this information will be recorded into the attendance overview.
The attendance is available in the login dialog of the cash register. The employee attendance overview can be found in reports or in Dotypos Cloud under Employees or Reports.
First the attendance must be activated in the Application settings in the section Attendance.
How does attendance work in Dotypos?
First, activate attendance in the Dotypos application settings. In settings we recommend to activate the option Check-in on user login, so the work arrival will be automatically recorded when a user logs into the cash register. You find the attendance in the login dialog. To record the work arrival, the user just has to log into the cash register by selecting his or her name or entering the PIN.

If the arrival is not linked to logging into the cash register, in the heading of the login dialog the user has to click on the button Attendance and record the arrival manually, then he or she logs into the cash register.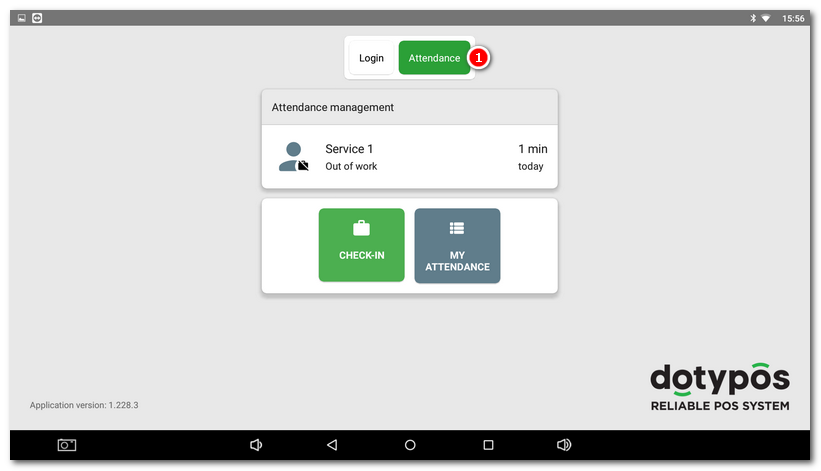 | | |
| --- | --- |
| | Later, once the user logs out, attendance buttons with options to record either leaving work or taking a break will be displayed in the login dialog. You can also find these options by clicking on the button Attendance in the heading. |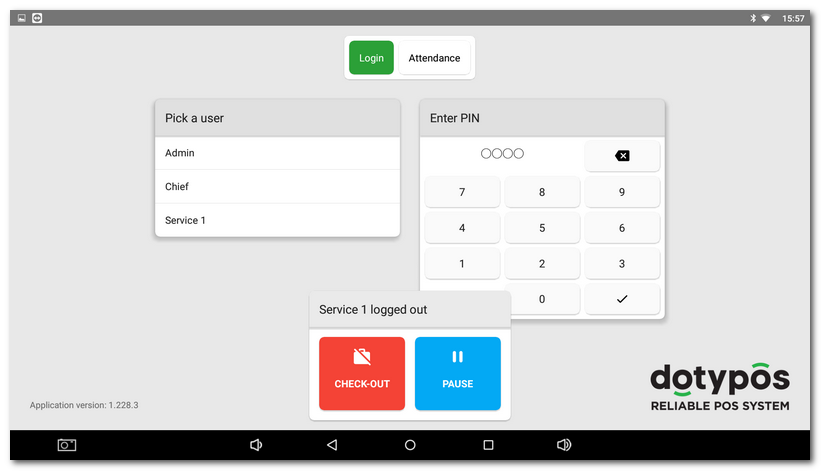 | | |
| --- | --- |
| | By switching on the item Attendance you can start/finish your work or break or switch into the attendance report, where you can find the records of individual employees. However, accessing reports is limited by the privileges of a specific user. |