The advanced settings of the Dotypos app can be accessed in the side menu under Application Settings. Tap on this option to view all cash register settings divided into categories (tabs). In these tabs you will find all the settings of the cash register and the hardware that the cash register supports. To access the other tabs, swipe up on the left side of the tabs. This allows you to scroll through the tabs.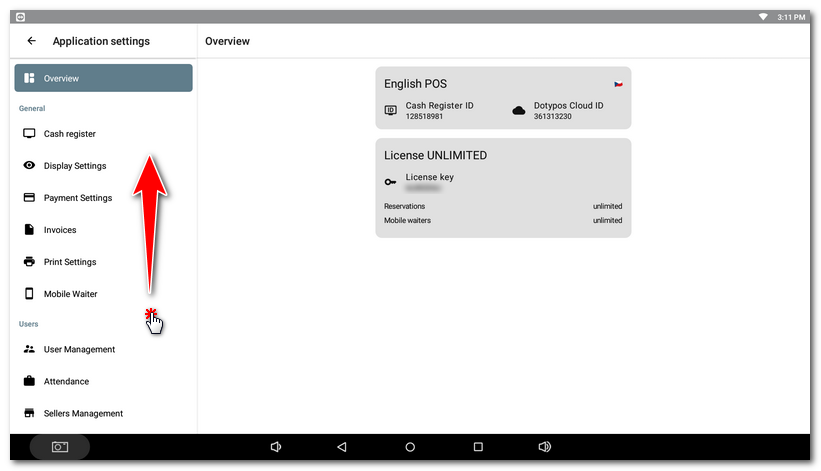 Overview
Information about your license, unique POS ID and Cloud ID. You will use this information when you contact technical support. In the case of a EASY and FULL license of Dotypos, you will see the number of remaining reservations you can create.
General
Cash register - Under this tab you will find basic options that affect the register behaviour, display and price counting. There is also a setting and bulk change of tax rates or sell by proxy.
Display settings - In this section you can set the parameters for displaying certain items of the touch cash register and the behaviour of the controls. You can also set the sales POS mode, featured screen and PLU keypad behavior here.
Payment settings - Setting the register behavior after the order is issued, i.e. payment dialog behavior, modifying payment methods, tipping and adding additional currencies.
Invoices - Invoice generation settings, custom number series for issued invoices and invoice data.
Printing - Setting up printers, adding print jobs.
Users
User management - Create an account for each cash register user (employees) and assign rights for different operations.
Attendance - Turn on / off a simple system for tracking employee attendance.
Sellers management - Overview of the individual sellers created within a single cash register.
Sale
Table Map - Activate the table map and its settings.
Order settings - Options and menu editing to integrate the cash register with ordering systems.
Discount Groups - Set up global discount groups for customer accounts.
Takeaway - Sets up takeaway sales options including the behavior of the Here/ Takeaway selection dialog.
Accessories - Sets up checkout peripherals, customer display and mobile waiters.
Portion management - Percentage definitions of portions sold that can be used in subsequent product accounting.
Course management - Create custom courses to inform the kitchen of their preparation.
Advanced
Security settings - Pin enforcement and automatic user logout.
Email summary reports - Activate and setup automatic sending of information to selected email addresses.
Synchronization and Backups - Setting up synchronization with Dotypos cloud, creating local backups.
Warehouses - Change the default warehouse that the cash register uses by default.
Self-checkout mode - A special mode for customers allowing only marking and order payment.
Data journal - Saving selected POS transactions to an audit file.
Authorization - Overview of authorized devices / applications, their approval or removal.
Other - Cash register specific settings that we do not recommend changing by default.
Dotypos Labs - Access to upcoming or experimental cash register features.
About Dotypos App - Shows the version of the application installed. Tap to view a summary of all records in the cash register database.