Adaptee Gastro is a well-developed and comprehensive system - its main advantages are fast and smooth online meal ordering, however, it also hides many other useful functions in the background. Thanks to integration with the Dotypos, every order is automatically transferred to the cash register. So you do not have to enter anything manually.
What Adaptee offers you:
•Proper ordering website that your customers can use to place orders easily and comfortably.
•Application for receiving orders from the website easily and quickly.
•Management interface (administration) to manage offers and overviews of orders or turnover.
•The application Driver, which plans the routes for delivery drivers and notifies customers by messages that the driver with their order is approaching.
•Marketing tools to address customers directly with newsletters or messages.
•And most of all, you do not pay order commissions to anyone!
| | |
| --- | --- |
| | If you are interested in the order system Adaptee, contact us using the form on this page. |
How to order the Adaptee system?
How to put the Adaptee system in the cash register into operation?
How to order the Adaptee system?
If you are interested and would like to have the Adaptee system integrated, contact your Dotypos sales representative. Or eventually use the link to the form above or contact us at the customer infoline.
How to put the Adaptee system in the cash register into operation?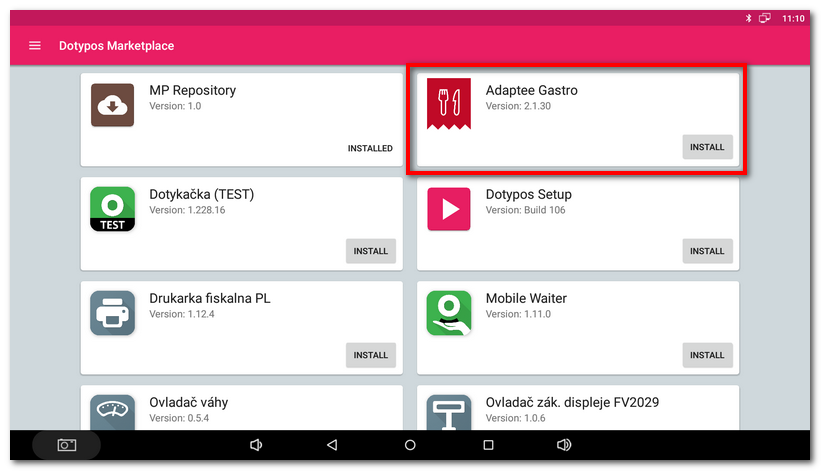 | | |
| --- | --- |
| | Run the application and log in using your registration number or user number and the password given by Adaptee. Now you can accept orders as described below. |
How does an order take place?
The customer orders online at your ordering website. Once the order is complete, he selects the delivery and payment type and the notification dialog in the cash register appears. In the dialog you can select whether you accept the order, whether you accept the order with a different delivery time, or you reject the order (e.g. when you are overloaded). The customer is immediately notified about your decision on the website and he also gets an email. The detailed ordering process can be found at the Adaptee website.

In the right corner, the Adaptee icon is displayed in the cash register over other applications until the order is processed. Click on the icon to display the ordering dialog again. So the Adaptee Gastro application has to be granted displaying over other applications in the Android system. The application asks for the required privileges.
If you accept the order, Dotypos generates an open order with the ordered items and prints out the order for the kitchen at the corresponding printer according to the configured printing task. When ordering delivery, the receipt is also printed out. After a few seconds, this order is closed and you can find it in the History.

If the customer has selected personal pick up, the order is also printed out for the kitchen, however the order remains open. The crew closes the order when it is settled and picked up by the customer at the establishment.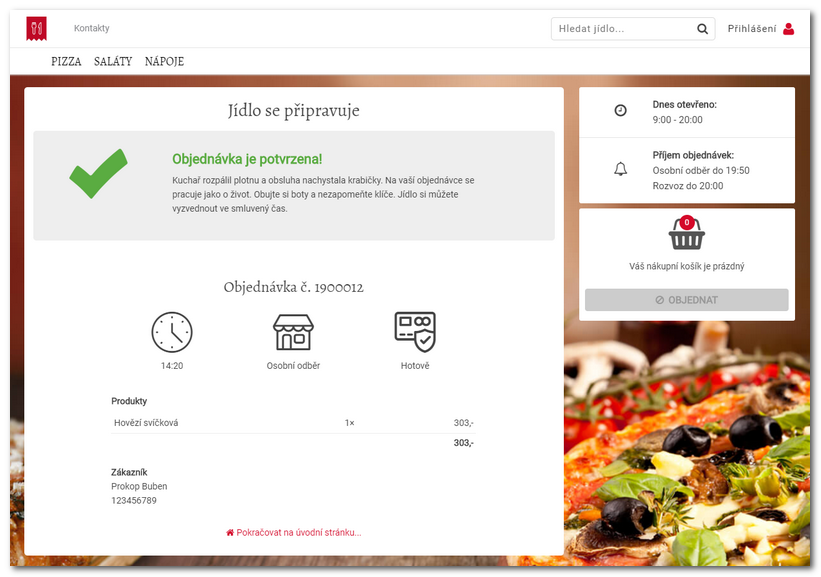 | | |
| --- | --- |
| | For an overview of all orders, log into the administration of the Adaptee system. |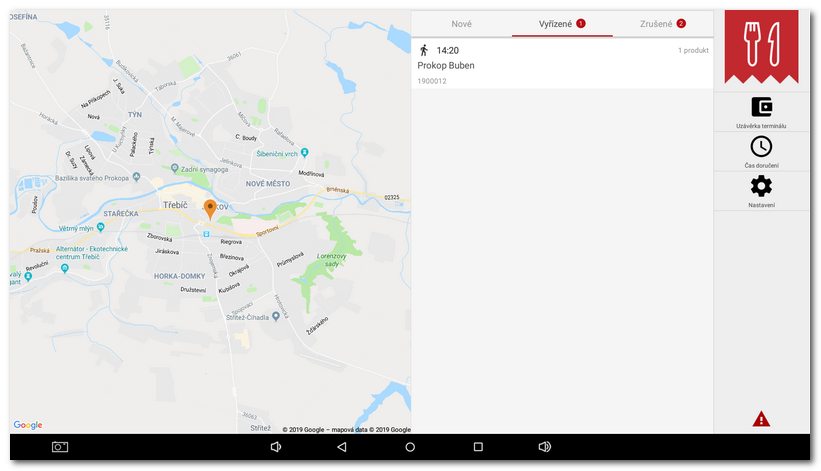 | | |
| --- | --- |
| | Please remember that for its smooth operating the Adaptee Gastro application must run in the background together with the Dotypos cash register application all the time. So do not quit the application during operation! |