Sales
Click on Sales reports and then from the pop-up menu select Sales. You will reach the page with sales overviews from all cash registers. By default the sales are divided by days. Each item is marked to show whether it was recorded in the EET mode or not.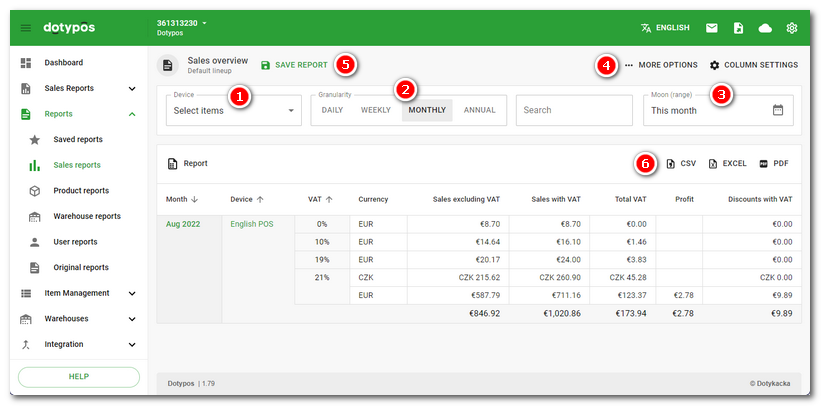 •The report shows sales by month and all cash registers by default. You can limit the overview to selected cash registers only by using the drop-down menu Device

. Use the menu

to set the grouping according to the selected period. The specific date from to can then be selected in the calendar

.
•By clicking on ... More options

you can filter the report according to other criteria. For example, display the sales of only a selected employee or customer. The column settings then allow you to add more columns to the report, change their order and remove them if necessary. The order of the so-called grouping columns then determines the form of the report, or tells by which data the report should be grouped. The Reports chapter shows how to work with reports.
•Once you have set up the report to your liking, you can save the settings

and create your own reprt. Saved reports can be found under the Reports » Saved reports tab.
•In the header, you can then export the report to the selected format

. The data export takes place immediately, so you must always wait for the save file dialog to appear. Depending on the settings of your browser, the exported file can be saved directly to the Downloads folder or another folder.
| | |
| --- | --- |
| | The sales overview can also be displayed directly in the cash register in the Sales overview. |
---
How does Dotypos calculate profit?
If 10 of a product are stocked in at a purchase price of 10 EUR and another 5 of the same product at 5 EUR, the purchase price for this product is calculated with the formula below:
total warehouse value (125 EUR) / total amount in warehouse (15) = 8,333 EUR
So 8,333 EUR is the average purchase price for one product. The cash register then calculates the profit as the sum of these average purchase prices minus sales:
Sales price - Average purchase price = Profit