Divide offered food into individual courses and inform the kitchen via the printer for orders about their preparation. The created courses can be displayed on the Dotypos main screen and the crew can punch them in quickly and easily.
| | |
| --- | --- |
| | You can also create courses directly in the cash register. For more information please see this chapter, where you also find a guide for working with courses in the cash register. |
How do you manage courses?
| | |
| --- | --- |
| | In Dotypos Cloud, click on the tab Item Management and from the pop-up menu select Course management. To create a new course click on the button + ADD COURSE . |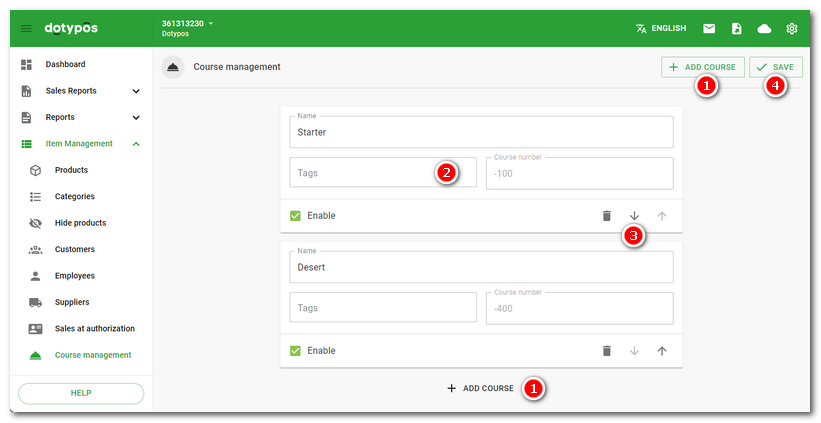 | | |
| --- | --- |
| | Enter Name of the course and add possible Tags . According to the tags in the filters in individual printing tasks you can route the course to a specific printer. So you can print orders or receipts of a specific course on one specified printer. The course number is applied during bulk data export / import, it is an internal item designation that is generated after saving. Use the arrows in the section to define the sequence of courses that will be applied when printing orders for the kitchen. It is always processed from the first course to the last one. The option Enable defines whether the course will be displayed in the cash register or not, so you can hide it temporarily. |
| | |
| --- | --- |
| | Finally, do not forget to save the created courses with the button . You can delete a course with the recycle bin icon in the section . Then the created courses are transferred to the cash register for further processing. |