The primary purpose of user accounts is to distinguish between operators and manage user access to touch cash register functions. For every account you can specify in detail access to specific privileges separately for cash register operations and for the Warehouse application. You can find user privilege settings in the bottom part of the page in account preferences.
In addition to cash register and Warehouse operations, you can also define the information users can see after logging into Dotypos Cloud. However, user privileges in Dotypos Cloud are assigned to dedicated user accounts with no connection to employee accounts in the cash register. So even a person that does not work with the cash register can have access to Dotypos Cloud, for instance when a sales overview is needed. The process for creating a user account in Dotypos Cloud and assigning privileges can be found in this chapter.

| | |
| --- | --- |
| | An overview of all privileges that can be assigned to, or taken away from, a user account can be found in this chapter. |
How do I set up privileges?
| | |
| --- | --- |
| | Click on the selected account to open its preferences. Push the left section of the screen with account preferences till the end. There you will find two lines with an overview of privileges granted for the cash register (Common Permissions) and an overview of privileges granted for Stock application (Stock Permissions). |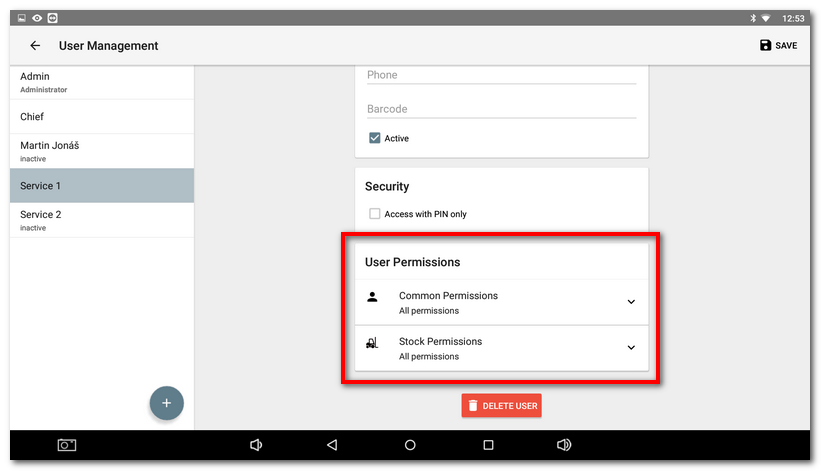 | | |
| --- | --- |
| | After choosing the privileges for a specific function just click on the selected line. A menu with all cash register and warehouse function privileges will then be displayed. You can go through the privilege overview using the movement gesture and move the list up or down. If there is a checked field next to an item , the user has the privilege to use the function. Click on this field to change its status and disable the function. Information for the selected privilege can be displayed by tapping on the icon . Once you set up all privileges, confirm the user account changes with the button SAVE in the top right corner. |