Dotypos allows you during a new product formation to use its name or EAN code to suggest the corresponding products found in the catalog. The catalog is a web service of Dotypos that contains information on common sales items, e.g. beverages, foods, drug products, etc. The items are added into the catalog continuously.
Suggesting products from the catalog is applicable when creating products in the cash register and via the Dotypos Cloud web interface as well.
Catalog advantages:
•You do not have to enter the full name of the product. After entering the first three letters, a list with corresponding products in the catalog will be displayed.
•Searching in the Dotypos catalog is not only possible by product name, but also by EAN code scanned by the bar code reader.
•Using the catalog noticeably speeds up the process of creating new products or changing existing ones. From the catalog, the name and EAN code are added.
•The added name from the catalog can be modified or shortened. So you can keep your own (preferred) product names.
•The catalog can be used directly in the cash register or in Dotypos Cloud. However, quick product entering using the scanned bar code reader is available only in the cash register.
How to create a product using the catalog?
You have several options for creating a product using the catalog:
| | |
| --- | --- |
| | When creating a new product in the cash register or Dotypos Cloud enter at least three initial characters for the name. Within 3 seconds, a list with products found in the catalog appears. From the offered products select the appropriate one. The product name and EAN code will be added. You just have to enter the price and VAT rate and save the product. |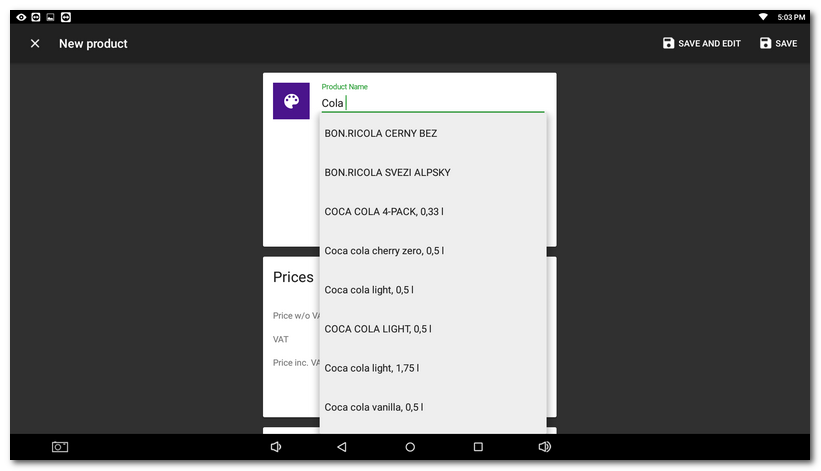 | | |
| --- | --- |
| | Directly on the main screen of Dotypos scan the bar code of the new product. It will display the dialog Product not found. Now you have two options to create the new product. Tap on the product found in the catalog to create a new product with a pre-filled name and EAN code. If you select the option ADD PRODUCT , the new product will be created only with the pre-filled EAN code. You add your own name in this case. Lastly, enter the price and VAT and save the product. However, you can change the product name anytime, even if it was pre-filled. |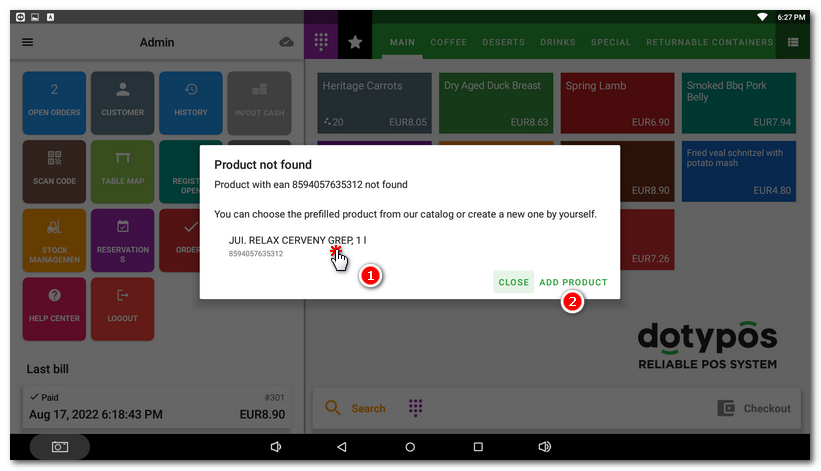 | | |
| --- | --- |
| | If the appropriate product is already present in the cash register, it will be added to the order after scanning the bar code by the reader. |
| | |
| --- | --- |
| | Go to the menu Items management, and scan the bar code. The appropriate (found) product in the cash register will be displayed and you can adjust it straight away. If there is not any product with an identical EAN code in the cash register, a new product with the added EAN code will open. Just enter the other properties and save the new product. |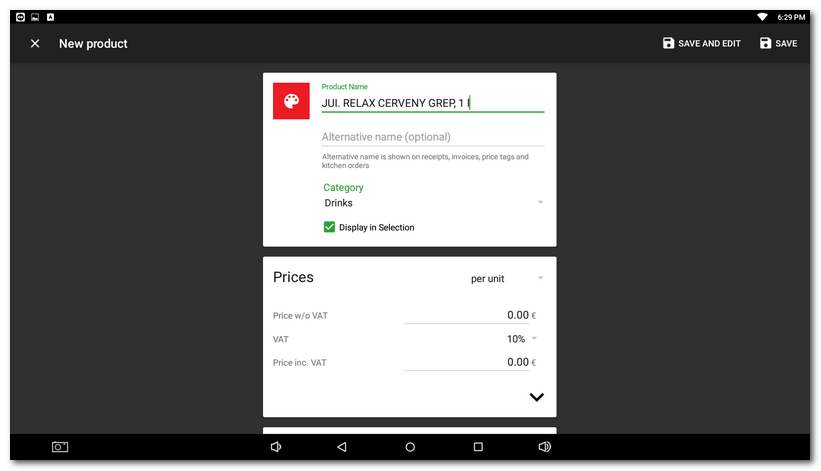 | | |
| --- | --- |
| | If you connect the reader to the computer, in Dotypos Cloud you can use the scanned bar codes to look for products in the List or when creating new ones, just fill the array EAN with the appropriate bar code. More information on using bar code readers is provided in this chapter. |